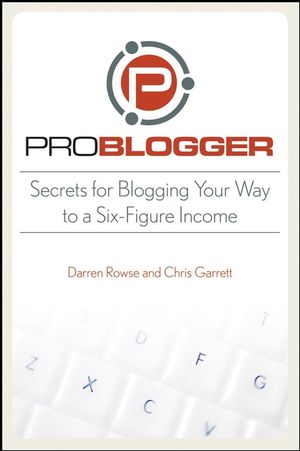 In my attempt to learn about the world of blogging as part of my freelance endeavors I came across
Problogger.net
. To me, the site, started by Darren Rowse, was thorough, understandable and easy to read, plus it included a job board for me to scan for possible opportunities. I was impressed enough to actually sign up for the daily email tips - something I try to keep to a minimum since it's a huge distraction for my
ADD
. I'm glad I did as most of the daily posts have shortened my learning curve, increasing my desire to do more blog writing as my confidence in the medium continues to grow.
This past month Rowse along with
Chris Garrett
, released a book they co-authored called
Problogger - Secrets for Blogging Your Way to a Six-Figure Income
, which I was eager to get my hands on. Now, before you jump to any conclusions about what I was thinking, let me say this

I'm pretty sure the Lunchbox - as much as I love it - will not launch me to Trump-level riches, so it wasn't the reason I wanted to get my grubby little paws on it. I tend to be skeptical of anything sounding like a scheme, and I am terribly cynical when it comes to jumping on bandwagons; however, being drawn to the content on Rowse's web page prompting me to do a little background work. What I found peaked my curiosity even further.

Before being an A-List blogger, Rowse worked as part of a ministry team at an Emergent church (Living Room) in his native Australia. Given where Ashley and I attend church (Ecclesia) and my other intrests in ministry, this lowered my skepticism as did his photography hobby (which Ashley does so well). It was a tri-fecta of sorts, and I sent away for a copy of the book first chance I got.

Don't let the title fool you into thinking it's only for those serious about making money through blogging. That is a good portion of it, but it actually spends considerable time covering blogging basics from determining your niche and organizing an approach to getting off the ground and building your traffic. Particularly helpful were the tools provided to research how your site may stack up amongst the millions that are currently out there, how to find blogs within your niche and how to analyze the traffic you are getting (or could be getting) on your own page.

I hate to sound like a suck up, but in implementing even a few of the tips provided, the traffic on the Lunchbox has gone from 35/day to 75/day and now up to 115/day average. I'd been having trouble defining my blog, but recently determined it to be targeted at a primary demographic (Men 20 - 40 understanding their various roles in daily life and in their faith). Another problem was organizing my subject matter into something consistent and relevant, which I managed to do with better tags to make my posts more granular. The book helped with both issues. I have some other items needing to be tighten up, but wouldn't been aware otherwise.

For those out there looking to make some money, Problogger offers practical advice, tips and considerations that apply to both the novice and those who have been at it for a while. Additionally, with the information as simple as it is, the book still provides in depth coverage on marketing your blog and establishing income and earning strategies that are not watered down.

If you're a cheapska... uh, thrifty, much of the information can be found on the Problogger.net website, but it's easy to get caught skipping around from thought to thought in an haphazard fashion (for those of us with ADD, that means after 30 minutes of click, click, click we find ourselves laughing at videos of dancing pieces of broccoli on Youtube). The book helps avoid that by presenting the material in an organized and sequential fashion, thus keeping me away from videos of frolicking veggies. If you are in any way, shape or form interested in, or already eyeball deep in having a blog then Problogger will likely benefit you.



Clark Kent likes Problogger? Mr. Rowse is running a deal for readers (that's me) to send him a photo where they are reading his book, so this is my submission (with Ashley's help). I must be loosing my edge...